Fundamentals of Information Security - Female
Fundamentals of Information Security - Female
Basic principles of information security as it applies to computer networks. Upon successful completion of the course, you will understand the theory behind securing computer resources for protection against internal and external threats such as: malicious code, web vulnerabilities, email exploits and various denial-of-service attacks. This course is designed to offer a broad overview of the security field, familiarize you with common terms and definitions, and act as an entry point into the more sophisticated concentrations of the security specialties available.
Make a clear view of all information security measures try to address at least one of three goals

protect the confidentially of data
preserve the integrity of data
promote the availability of data


These goals form the confidentiality, integrity, availability (CIA) triad, the basis of all security programs.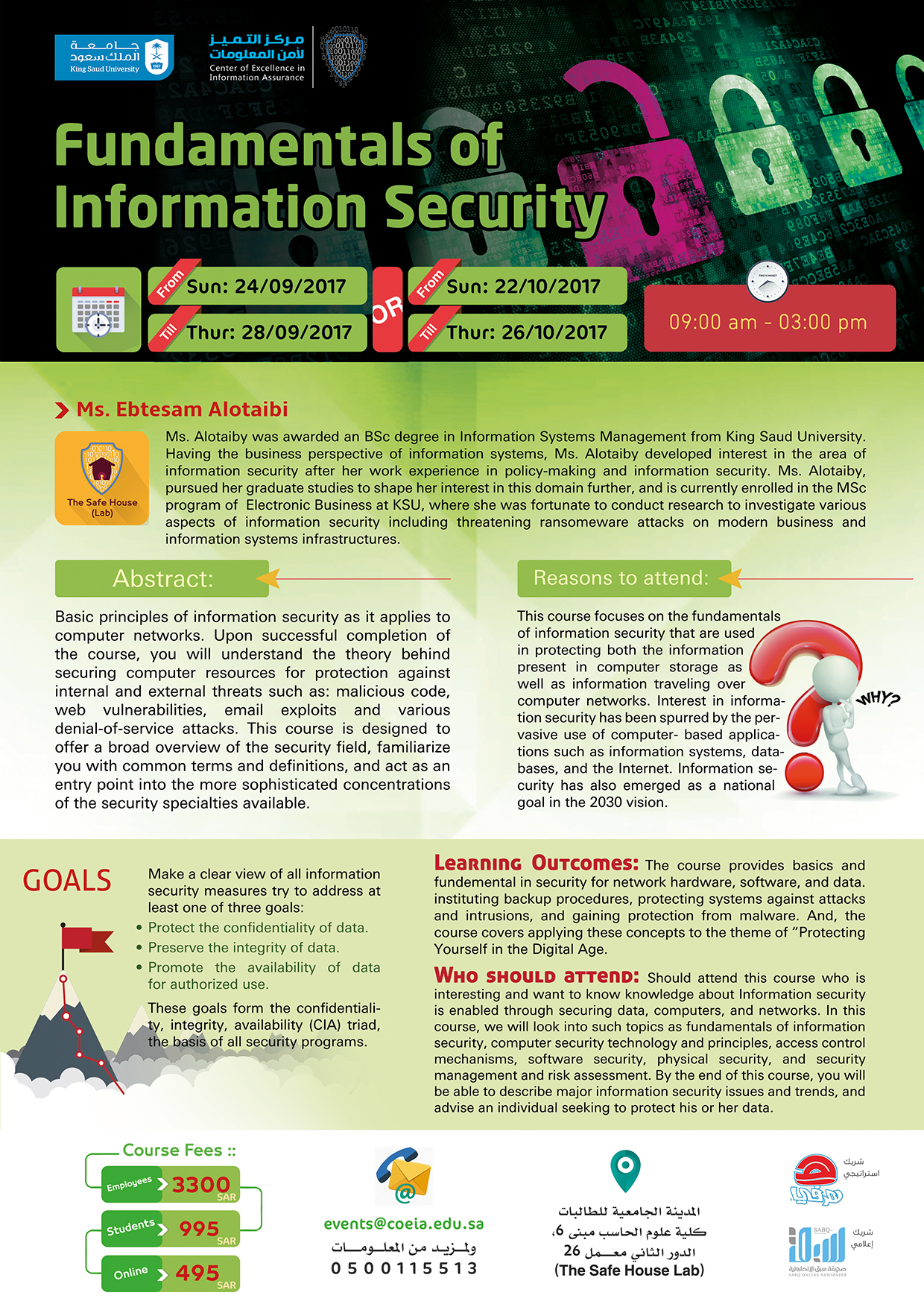 | Timing | Location | Price | Student Price | Online Price | Trainer | Registeration Status | Feedback |
| --- | --- | --- | --- | --- | --- | --- | --- |
| بتاريخ 24/09/2017 الى 28/09/2017 من الساعة 9 صباحاً الى 3 مساءاً لمدة 5 أيام | المدينة الجامعية للطالبات، كلية علوم الحاسب، المبنى رقم 6، الدور الثاني، معمل رقم 26 (معمل The Safe House Lab) | 3300.00 | 999.00 | 495.00 | Ebtesam Alotaibi | Registeration is closed | Feedback is closed |
| بتاريخ 22/10/2017 الى 26/10/2017 من الساعة 9 صباحاً الى 3 مساءاً لمدة 5 أيام | المدينة الجامعية للطالبات، كلية علوم الحاسب، المبنى رقم 6، الدور الثاني، معمل رقم 26 (معمل The Safe House Lab) | 3300.00 | 999.00 | 495.00 | Ebtesam Alotaibi | Registeration is closed | Feedback is closed |
| | |
| --- | --- |
| Speaker Language | Both English & Arabic |
| Content Language | Englsih |
| Target Users | المهتمات بأمن المعلومات |
| Duration | 5 Days |