IT Project Management
1. Identify the international standards and best practices for IT projects management.
2. Understand how to deal with IT projects constraints (scope, time, cost, quality, etc.).
3. Get familiar with best available tools and techniques for IT projects management.
4. Obtain practical training on using Microsoft Project Professional 2013.
5. Prepare for PMP, GCPM, or CSPM exams.

• IT Project Management Overview
• Introduction to IT Project Management
• Organizational Influences and Project Life Cycle
• Project Management Processes
• Project Initiating
• Project Planning
• Project Executing
• Project Monitoring and controlling
• Project Closing
• Information Security Project Management Certifications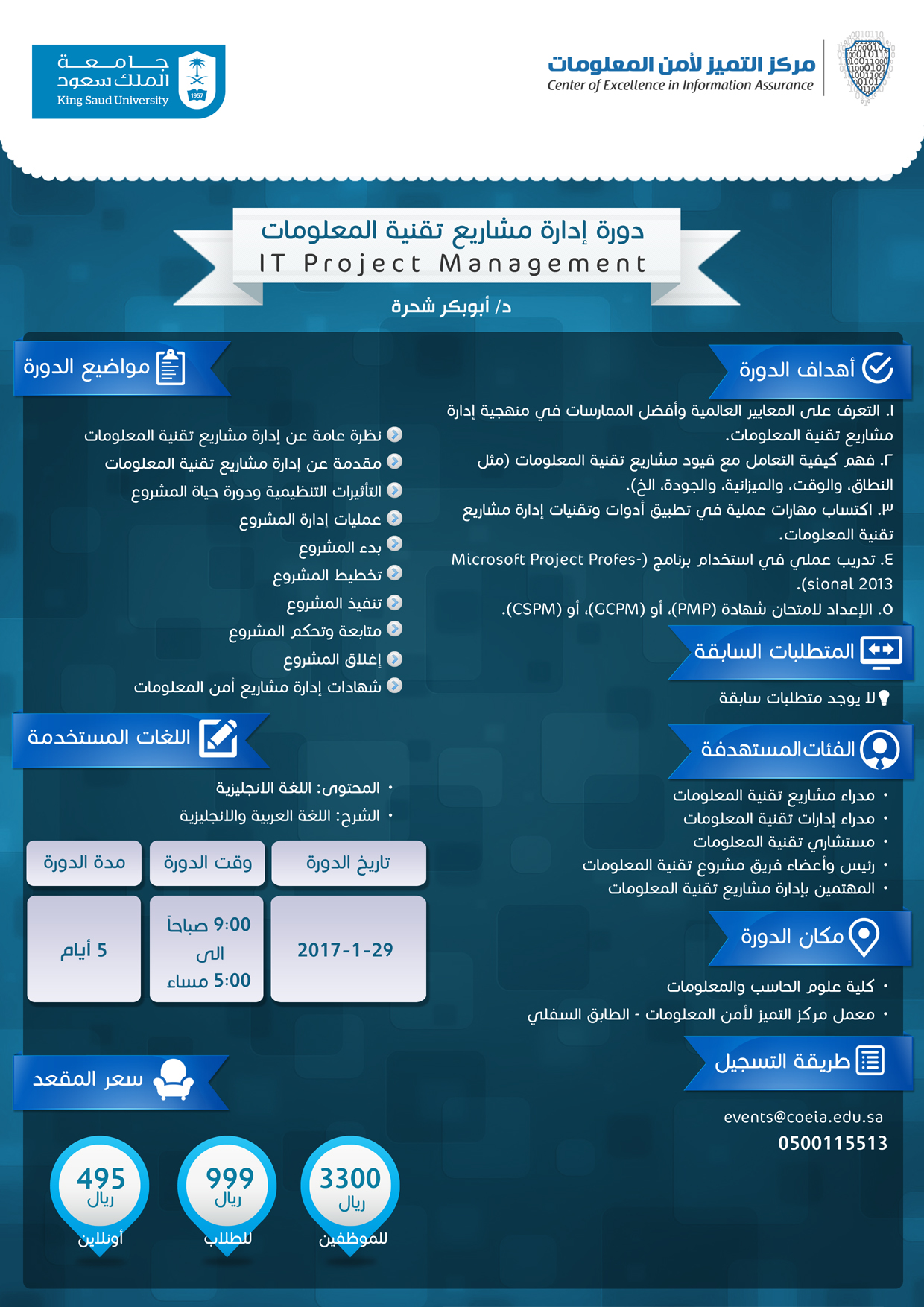 | Timing | Location | Price | Student Price | Online Price | Trainer | Registeration Status | Feedback |
| --- | --- | --- | --- | --- | --- | --- | --- |
| 29/1/2017 من الساعة 9 صباحاً الى 5 مساءً | | 3300.00 | 999.00 | 495.00 | Dr. Abobakr Y. Shahrah | Registeration is closed | Feedback is closed |
| مسائية بتاريخ 03-03-2019 الى تاريخ 07-03-2019 لمدة خمسة أيام من الساعة 4 عصراً وحتى 9 مساءً | Carawan Al Fahad Hotel | 1995.00 | 995.00 | 0.00 | Dr. Abobakr Y. Shahrah | Registeration is closed | Feedback is closed |
| مسائية بتاريخ 31-03-2019 الى تاريخ 04-04-2019 لمدة خمسة أيام من الساعة 4 عصراً وحتى 9 مساءً | Carawan Al Fahad Hotel | 1995.00 | 995.00 | 0.00 | Dr. Abobakr Y. Shahrah | Registeration is closed | Feedback is closed |
| | |
| --- | --- |
| Speaker Language | Both English & Arabic |
| Content Language | Arabic |
| Target Users | • مدراء مشاريع تقنية المعلومات • مدراء إدارات تقنية المعلومات • مستشاري تقنية المعلومات • رئيس وأعضاء فريق مشروع تقنية المعلومات • المهتمين بإدارة مشاريع تقنية المعلومات |
| Duration | 5 Days |